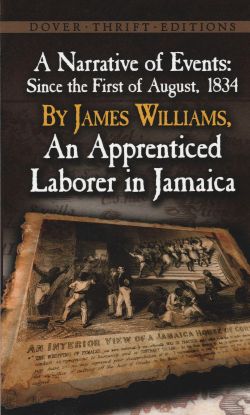 If anyone was ever in any doubt about the iniquities of the Apprenticeship scheme that followed the apparent abolition of slavery in the British colonies this little book lays out in graphic detail just how much more dreadful things became for those who had been enslaved.
I say 'apparent abolition' because although no-one was now legally a slave, the apprenticeship scheme left the formerly enslaved suffering the worst of both worlds. They were still tied to their former owners and required to work for them, and they had lost what minimal legal protection they had previously had.
Nowhere was this more clearly illustrated than in the testimony of young James Williams, formerly enslaved at Penshurst in the parish of St Ann. With the connivance of a corrupt local law enforcement, his previous owners, a Mr Senior and his sister, inflicted terrible punishments on young James and many of his fellow former slaves. James was about eighteen when he gave his testimony in 1837 and his resilient character shines through it.
When first published in Great Britain it caused an outcry and helped in the final abolition of slavery in all its forms throughout the British colonies. In case any should doubt his account, it was backed up by testimony recorded by a formal Commission of Enquiry.
This little book, which is a gripping and horrifying read, was republished in 2014 by Dover publications, unabridged from the original edition of 1838. It is also available as an ebook from Dover and other sources.
Williams, James. (2015) A Narrative of Events: Since the 1st of August, 1834, by James Williams, an Apprenticed Laborer in Jamaica. Mineola, New York: Dover Publications Inc.